Profile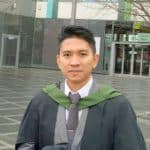 Bastian Saputra
Curriculum Vitae
Education

I went to a primary, secondary, high school, and university (undergraduate) in my home country (Indonesia). I came to UK for doing a Master degree at University of Sheffield and now doing a PhD in the same university.

Qualifications

I didn't do a GCSE (the education system in my home country is different)

Work History

After finishing my undergraduate, i worked as a staff in an oil and gas company. My main role was engineering and management of the wastes produced from drilling activities. basically, cleaning up the polluted soil so it can be reused for another purpose.

Current Job

A PhD student and also research staff at the University of Sheffield

Employer
Favourite thing to do in my job: Exploring how science can be used to protect our environment

About Me: I am a PhD scientist researching about microbes in the soil

Read more

I live in Sheffield (It's been almost 4 years now). I always spend my time in the laboratory to work with microbes, but in my spare time i love going for a hiking with friends! I have so many friends in Sheffield, they are very nice, friendly, and very encouraging (we love doing BBQ when it is sunny)

My Work: Modify the bacteria cells so they can glow in the presence of pollution

Read more

I love doing research! i work in the laboratory most of the time . So my work is about modification the genetic properties of bacteria cells, so they can produce a fluroescent light in the presence of pollutant (heavy metals) (you can see this photo of my bacteria cells when they are glowing ). Later on i will use these bacteria cells as a biological sensor to detect the presence of heavy metals as pollutant in the soil. The idea is, if we mix this bacteria with soil samples and they are glowing, it means that the soil is dangerous and requires further treatment. So basically, the bacteria can be used as an indicator to test if the soil is safe or not for the surrounding ecosystem.

My Typical Day: working in the lab from 9 am until 5 pm then spending time for jogging or going to pub with friends

What I'd do with the prize money: I would love to raise a campaign or awareness about protecting the environment to some students in the local schools around Sheffield!

My Interview

How would you describe yourself in 3 words?

proactive, patient, thoughtful

What or who inspired you to follow your career?

Protecting the environment

What was your favourite subject at school?

Biology

What did you want to be after you left school?

A doctor

Were you ever in trouble at school?

yes sometimes

If you weren't doing this job, what would you choose instead?

run my own business

Who is your favourite singer or band?

Coldplay

What's your favourite food?

chinese foods

What is the most fun thing you've done?

travelling to Paris!

If you had 3 wishes for yourself what would they be? - be honest!

get a job after university, buy a house, and travelling around the world

Tell us a joke.

If vegetarians eat vegetables, what do humanitarians eat?
---
---